The Masika's World Collection is our specialized home textiles and accessories collection, designed by us and celebrating the central African culture and traditions. It is exclusive to www.852andbeyond.com. Each item is crafted in Congo by talented artisans, using genuine African prints (Wax), hand-selected from local markets by Daisy-Masika. Bring a unique African touch to your home decor, indoor and outdoor, with this special collection!
---
  Growing up in the San Francisco Bay Area and being surrounded by vibrant local artisans and a diverse population, Mary Frances' influences and inspiration began at an early age. Drawing from her love of nature, travel, and artistic influences from around the globe, each Mary Frances design reflects her passions. Her designs are eclectic and trend setting. You can find beautiful textures and motifs ranging from florals, music, and animals to intricate pattern work that is whimsical yet chic. There is truly something for everyone and customers draw an immediate response to the perfect bag that is just right...
---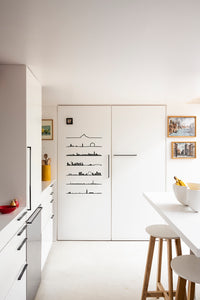 STARTING POINT TheLine's story surprisingly started from a viewpoint. The unique viewpoint of a photo of Marseilles taken from a sailboat sailing around the Frioul islands in the early morning. Just as the sun rose, the backlighting of the shot reveals a view of the city that is both raw and stunning. Better than framing it, Antoine Daniel, founder of TheLine and a young carpenter born in Marseilles, came up with the idea of turning this panorama into metallic lines cut using laser. This technique, coupled with steel, makes it possible to create highly-detailed topography and monuments, thus giving weight,...