Shop our handbags by theme
Learn more about our Amazing Beaded Handbags, Phone Bags, Makeup Bags and Coin Purses.
Made for all occasions from the very casual drinks with friends to the most formal event, you will be impressed by the perfect craftsmanship and intricate details. The bags are handmade in India by extremely talented artisans. 
SHOP NOW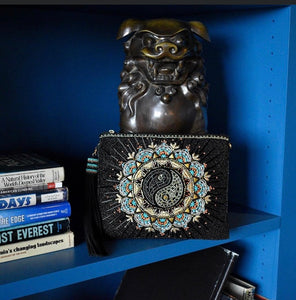 Learn more about our City Skylines Made of Steel in France.
100% Made in France. Available in Black or 24K Gold Finish. 50cm in length. 1.5mm thick. 41 cities to choose from. 
Asia: Dubai, Hong Kong, Jerusalem, Shanghai, Singapore, Tokyo.
America: Chicago, Los Angeles, Montreal, New York, Rio de Janeiro, San Francisco, Toronto.
Europe: Amsterdam, Barcelona, Brussels, Florence, Frankfurt, Geneva, Istanbul, Lisbon, London, Madrid, Milan, Porto, Prague, Rome, Venice.
France: Avignon, Biarritz, Bordeaux, Lille, Lyon, Marseille, Mont-Saint-Michel, Nice, Paris, Saint-Malo, Saint-Tropez, Toulouse.
Oceania: Sydney
They make the perfect gift as they bring up the best memories of cities you have visited, cities you have lived in, or places where you left your heart!
SHOP NOW